Reply Tracker for MailWizz EMA free download
LIVE PREVIEWBUY FOR $23free download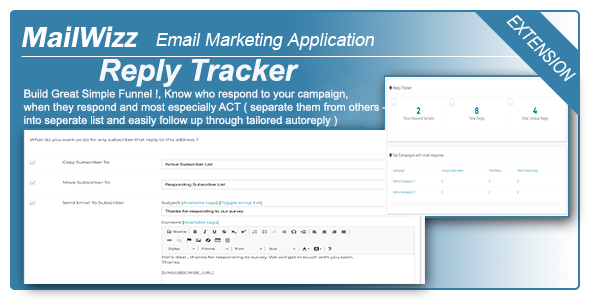 Dedicated Reply Tracker for MailWizz EMA
Build Great Simple Funnel !, Know who respond to your campaign, when they respond and most especially take action (separate them from others and easily follow up)
This extension enables reply/response tracking for your MailWizz EMA powered application!
Since MailWizz EMA email box monitor is not built for tracking reply and dont give stat about responses from campaign likewise risk of deleting mails if not well configured, things could have been better if we could know who reply ,when they reply and which campaign they reply to.
This extension aims to alleviate this and provide you simple tool to follow up with your active subscribers.!
Simple scenario is sending a campaign to a listA gotten from somewhere not too trusted, you send campaign to listA, you got some response, and you copy listA member that reply to listB (interested active subscriber list). Then you can easily follow up with listB; and you have higher chance of success as they reply already.
FEATURES/USAGE
– Track response from any campaign
– Detect active subscriber through response
– Select actions to be executed when customer respond
– Auto Follow up message (with support for all campaign and subscriber fields tags) to be sent when a subscriber respond
– Make new list of responding subscribers by copying/moving subscriber to specific list when they reply
– Download/Export responses from subscribers
– Autoresponses and out of office mails filters; so you get mostly real reply from real human.
– Unlimited number of inbound server
– Create Inbound server from existing email monitors
QUESTIONS/SUPPORT
MailWizz EMA from version 1.3.3.1 to latest version is required
We provide documentation with video illustration covering installation and usage.
We respond to your questions as fast as possible within few hours.
We dont provide refund for the extension after purchase, so confirm before purchase.
Any custom work including setup, installation and extension (that might require skilled hours) are not free. You can hire us for this.
We dont take responsibility for smtp connection issue.
We read your inbound server mails only. No mail will EVER be deleted
Demo
Demo is in read only
Admin panel:
https://turnsaas.com/mailwizz/backend/index.php/guest/index
Email: admin@admin.com
Password: 123456
Customer panel.
https://turnsaas.com/mailwizz/customer/index.php/guest/index
Email: customer@customer.com
Password: 123456

Source