LIVE PREVIEWBUY FOR $35free download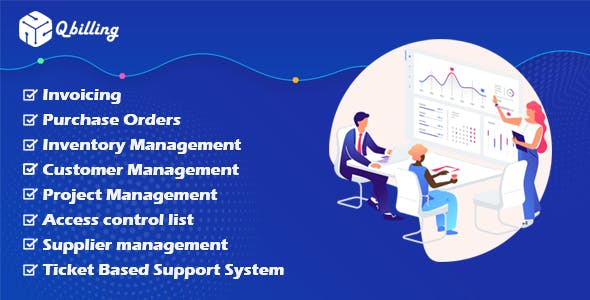 A Well Designed
Business Billing & Accounting Solution
Support/Assistance are provided only by email/support tab. Please send an email or message via support tab.
qBilling is a Well Designed Business Billing & Accounting Solution. Application is packed with ton of
features like
Invoicing, Quotations, Purchase Orders, Inventory Management, Customer Management, Supplier
management, Project Management, Accounts, Data & Reports, Employee Management with very flexible user roles
& permissions system.

Invoicing
Custom tax rates per products
Custom discount rates per products
Integrated Stock Manager
Decent Invoice Printing template
Quotations
Send Quotes with proposal as Email
Convert quotes to invoices
Purchase Orders
Purchase items for your inventory from suppliers
Integrated to Inventory Manager
Inventory Management
Track Stock worth category wise
Manage Product Ware Houses
Manage products with live stock status
Customer Management
Get Record of Invoices with specific customer
Get Records of quotes with specification customers
Supplier management
Accounts
Create and manage Accounts.
Get balancesheet and account statements
Payment for income and expense will reflect account
Sales & Purchase is integrated to accounts
Transactions
All Payment activities are recorder
Make Custom transactions for income or expense
Transfer balance from one account to another
Income and expense list
Data & Reports
Inventory stock report
Sales and purchase report
Income and Expense report
Income VS Expense report
Fully featured ticket based support system
Customer can create tickets in his login
Employee can reply and solve problem
Project Manager
Useful and easy to use project management system is included with project room
Task Manager
System admin can assign tasks to employees
MISCELLANEOUS
Notes
Documents
Employee Management
Editable Email Templates
Export & Data backups
Nice Printable Invoices
The application offers a well organized pretty invoice templates for project invoices, sale invoices and quotation
invoices to print, have a look one of it
Demo Details
Demo URL
URL : http://testversions.quantiklab.com/qBilling
Business Owner/Admin
Email: admin@gmail.com
Password: 123456
Business Manager
Email: businessmanager@gmail.com
Password: 123456
Sales Manager
Email: manager@gmail.com
Password: 123456
Project Manager
Email: project@gmail.com
Password: 123456
Sales Person
Email: sales@gmail.com
Password: 123456
Project Person
Email: employee@gmail.com
Password: 123456
Stock Manager
Email: stock@gmail.com
Password: 123456
Customer
Email: customer@gmail.com
Password: 123456
Requirements
qBilling is build on top of the latest version of Laravel php framework. You can
learn more about
Laravel from Here or Here.
You will need to make sure your server meets the following requirements:
PHP >= 7.1.3
OpenSSL PHP Extension
PDO PHP Extension
Mbstring PHP Extension
Tokenizer PHP Extension
XML PHP Extension
Ctype PHP Extension
JSON PHP Extension
BCMath PHP Extension
---Changelog---
--Change Log v 1.0
    - Initial Release
    - Small bug fixed
    - Small Improvements


--Change Log v 1.0.1
    - Fixed an issue that causes smtp mail error when creating new customer and supplier
    - Small bug fixed
    

--Change Log v 1.0.2
   --Fixed an issue in .env file which caused 404 error on some server.