LIVE PREVIEWBUY FOR $19free download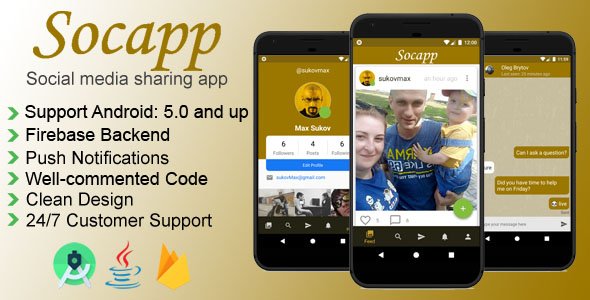 Description
Socapp is a social media sharing Android app which can help you to run your own social network like Instagram. It contains a lot of features every social network should have, and you get everything working out of the box. Set up instructions are documented pretty well, as much as the code, so building app shouldn't be a problem even for a housewife.
Features
Sign in with email and password
Sign up with username, email and password
Password recovery
Sign in using Facebook or Google+
Feed page, which display all posts from people followed by user with options to comment and like it
Share your photo by selecting it from gallery or capturing from camera. Add caption to post (optional)
Create text posts
Add like to any post
Add comment to any post
Save post in order to view it later
Search users by username
View user's profile page with posts, followers and followings count, and user's posts
View followers and followings list of any user
View post of any user with options to comment and like it
Delete user's posts & comments
Follow or un-follow user
Chat with any user
View notifications about new followers, likes and comments
Edit profile: avatar, username, display name, description, email, phone, web page
Receive push notifications one new followers, likes, comments and messages
Block / unblock any user
Support Emoji in comments and chat
… and more features coming in next version!
Demo
Check out demo app here
License
If you're going to monetize your app by adding in-app purchases or any other payment method, make this app as paid on play market or sell your own version of this app to anyone, then you should buy Extended License. Otherwise you can buy Regular License.