Best Friends – Dress Up – Android free download
LIVE PREVIEWBUY FOR $300free download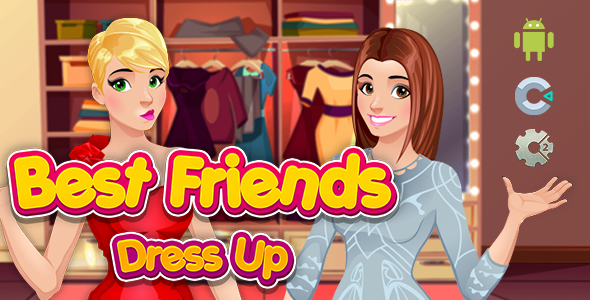 Play
Use "Live Preview" button above to play my game but don't forget to click "Remove Frame" at top-right corner of the screen to run it without issues.. or
Click here to play directly: Link Here
Description
Make your style, get creative and hit the best result for your characters. Made in Construct 2 and Construct 3 game engines. Enjoy the game!
Included
– * Construct 2 Source Files
– * Construct 3 Source Files
– Android Debug APK File
– Android Studio Files
– Cordova Files
– Mouse and/or Touch
– Replace Content With Yours
– Help Text Files
Important
* WHEN YOU PURCHASE MY GAME, PLEASE CONTACT ME TO SEND YOU THE SOURCE FILES.
Don't forget to visit my website to explore new games, ecards and more.
Warning
I'm available to help you, to give you instructions only for free, but in case you have no skills, please don't ask for refunds or talking for bug files.
I'm available for freelance work always, for example to reskin it, add or remove things, publish it, anything.
If you are interested don't hesitate to contact me via email: contact@odiusfly.com
Note
Support
– If you have any questions and/or requests, please contact me at contact@odiusfly.com